History of the house "Hotel am Markt" and the town "Bacharach"
Why not let yourself be transported back in time and find out more about the history of the hotel and the town of Bacharach as far back as the 17th century? Immerse yourself in the romance and history of this fascinating place!
The Hotel in 2017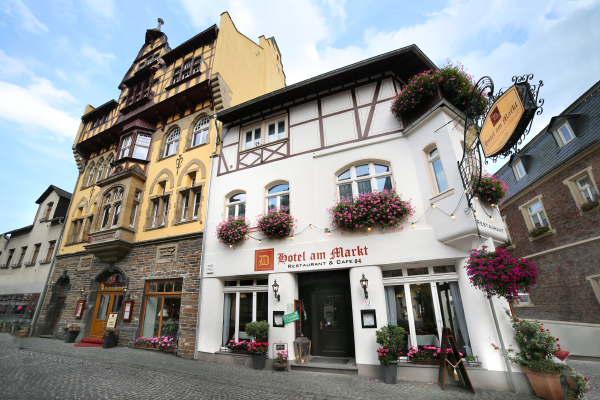 In 2017 we will be celebrating our 20th anniversary: this was a good enough reason for us to carry out a complete refurbishment of our guest rooms, including installing air conditioning.
The comprehensive refurbishment work begins on 5th January 2017. From March 2017, the updated rooms will be available for use. To give you an idea of our plans, we have already finished refurbishing the first room.
You can look forward to seeing the magnificent new rooms in our main building at the start of the new season in April 2017.
From new bathroom fittings to new furnishings, our bright airy rooms will have a modern appearance and a fresh coat of paint, with a great deal of emphasis on comfort. From now on you can enjoy a cosier, and more elegant ambience when staying overnight in our guest rooms.
The Hotel in 2010
Now, just as it did back then, our name stands for service and hospitality!
This successful combination of tradition and progress gives you time to relax and unwind; our excellent team will subtly and discreetly take care of this amongst other things.
Extension in 2008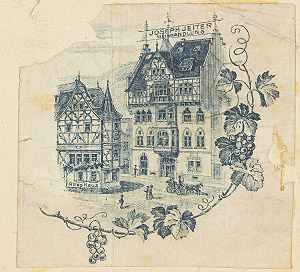 Circa 1900, then a wine merchant's owned by the Jeiter family.
The "Hotel am Markt" was extended in 2008. Today this cultural landmark on Bacharach's market square offers a range of romantic comfort rooms + holiday apartments.
Topography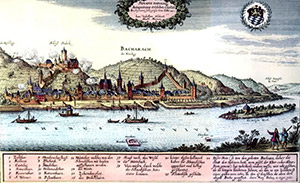 Topography around 1646
"Bacharach" is situated in the centre of the beautiful Middle Rhine Valley - declared a UNESCO World heritage Site in 2002.
The Middle Rhine is one of oldest settlements in Germany and its cultural life dates back many centuries. Bacharach itself boasts a wealth of monuments, castles and other historic buildings.
The forests, wine-growing, mining and the unique Rhenish way of life have all left their distinctive mark on both the people who live here and the development of the area.
The house, circa 1912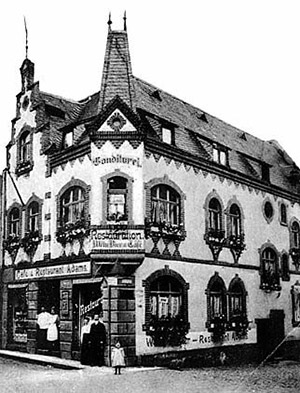 What was originally a grand and prestigious hotel-restaurant known as the "Konditorei Adams" has now evolved into the fantastic new building we see today on Bacharach's historic market square.
With its traditional and timeless charm, the Hotel am Markt – together with the other historic buildings which surround it - has adorned the old market square of the World Heritage town of Bacharach since 1912.
Landsturm - Kompanie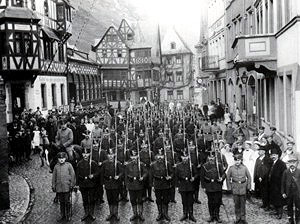 Bacharach
1st Landsturm-Kompanie of Bacharach in First World War.
Rhine cruises around 1906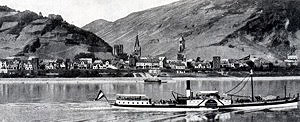 Bacharach - Rhine cruises around 1906
Remarkably, the old paddle steamer with a mast.